MV Cape Wrath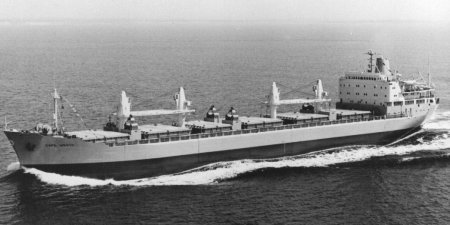 Geared Bulk Carrier
Official Number: 335019
Call Sign: GYRA
Tonnages: 13,532 gross 7,687 net 21,870 deadweight.
Main Dimensions: 527.9 x 75.2 x 32.1 feet.
Cargo Handling: Fitted with four electric hydraulic deck cranes of 8 SWL suitable for grab discharge.
Engine: Horten Sulzer oil engine 6 RD 76, 9,600 bhp 15 knots.
June 1968: Completed by Marinens Hovedverft, Horten (Yard No.162) for Lyle Shipping Co. Ltd., Glasgow. Scottish Ship Management Ltd., Glasgow, managers.
1976: Sold to MacKinnon Mackenzie & Co (Pvt) Ltd., Bombay and renamed CHANDA Indian flag.
1988: 5th May, Laid up at Bombay.
1991: 11th April arrived Kalyanji jethlal Shah Co. at Powder Bunder Shipyard, Bombay to be scrapped. 12th April suffered a major engine room fire.