MV Cape Trafalgar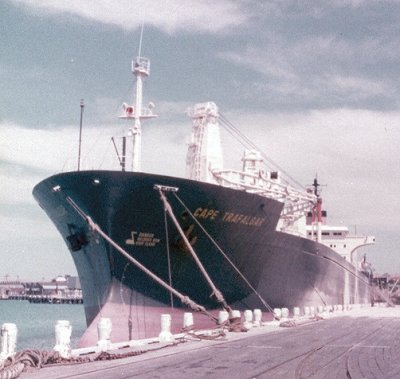 Geared Bulk Carrier
Official Number: 389439
Call Sign: GBZK
Tonnages: 16,250 gross 9,116 net 26,060 deadweight.
Engine: M.A.N. K7SZ70 oil engine, by Mecanica Pesada S.A. Tourbate 13,300 bhp 15 knots.
Cargo Handling: Fitted with four Liebherr electric hydraulic deck cranes of 25 tons SWL suitable for grab handling.
September 1981: Completed by CCN-Maua, Rio de Janeiro (Yard No.136) for Lyle Shipping Co. Ltd Glasgow. Scottish Ship Management Ltd., Glasgow, managers.
1984:Managers became Scottish Ship Management Ltd. Bermuda. Bermuda flag.
1984: Sold to Charlton Shipping Co. Ltd. Scottish Ship Management Ltd Hong Kong, managers. Hong Kong flag renamed PORT ROYAL.
1986: Sold to C.S. Maritima Inc. Acomarit Maritime services UK Ltd. managers. Philippine flag, renamed KALAPATI.
1988: Sold, Rotary Shipping Co. Ltd. Kassos Maritime Enterprises managers. Cyprus flag renamed EPTA. Lauritzen Bulker Pool.
1998: Sold, Borvas Shipping Co. Ltd. Pacific & Atlantic Co. Ltd., managers. Cyprus flag, renamed WORLD LAPIS.
2000: January 8th detained at Liverpool for eleven days by the Maritime & Coastguard Agency. Twelve deficiencies in total. Grounds for detention: Oily water separator inoperative, Lifeboat engine inoperative.
2002: Reported sold to Chinese buyers on private terms. Renamed PATERONISSO.
2002: Sold, China Harbours. China flag. Renamed WORLD LAPIS.
2005: February, converted to a trailing suction hopper dredger. China Govt. Chec Dredging, renamed XIN HAI JING. Shanghai Dredging, managers.
2010: September 6th. Photographed in Shanghai, China. Click the thumbnail for more information and a larger image.


>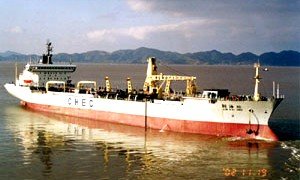 Main Photo by R. Warner, Info from J. Drury.