MV Temple Inn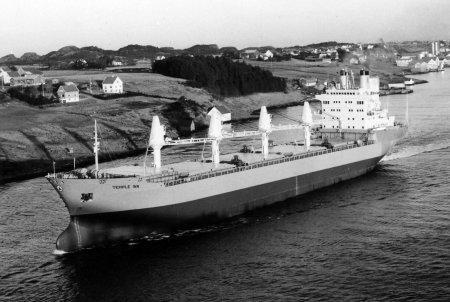 Geared Bulk Carrier
Official Number: 343067
Call Sign: GPOU
Tonnages: 14,651 gross, 10,051 net, 23,710 deadweight.
Main Dimensions: 534.3 x 75.2 x 34.2 feet.
Cargo Handling: Fitted with four electric hydraulic deck cranes of 16 tons SWL suitable for grab handling.
Engine: Two 12 cylinder Ruston & Hornsby medium speed oil engines, 12,000 bhp 15 knots.
October 1972: Completed by Haugesund Mekaniske Verksted, Haugesund (Yard No. 42) for Lambert Brothers (Shipping) Ltd., London. Scottish Ship Management Ltd., Glasgow, managers.
1974: Re-engined by Amsterdamsche Droogdok Maatschappij, Amsterdam with two Stork Werkspoor Diesel 12 TM 410 Medium Speed Engines. 12,000 bhp 15 knots.
1975: Management transferred to Whitco Marine Services Ltd.
1977: Management to Salen UK Ship Management.
1979: Sold Aria Shipping Co. Ltd., Greece flag, renamed. CAPE ANTIBES. Flag later changed to Panama.
1988: Sold Shipping & Trading Associates (Private) Ltd. Denholm Ship Management UK Ltd., Glasgow, managers. U.A.E. flag, renamed PEARL OF DUBAI. Management later transferred to Shipping Management S.A.M. (V Ships).
1997: Transferred to St Vincent & Grenadines Flag. Broken up at Alang. Work commenced 4th July.
Photo sent in by Jim Gray. Information by J. Drury.