MV Temple Arch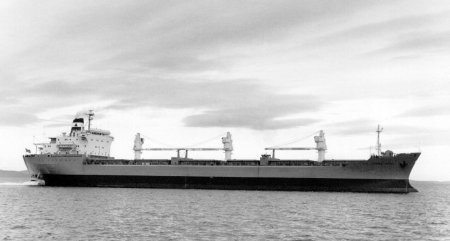 Geared Bulk Carrier
Official Number: 338023
Call Sign: GZZH
Tonnages: 13,600 gross, 7.680 net, 21,150 deadweight.
Main Dimensions: 527.9 x 75.2 x 32.1 feet.
Cargo Handling: Fitted with three electric hydraulic deck cranes of 10 tons SWL suitable for grab handling.
Engines: Two 9 cylinder Ruston & Hornsby medium speed oil engines, 12000 bhp, 15 knots.
November 1969: Completed by Marinens Hovedverft, Horten (Yard No. 166) for Euxine Shipping Co. Ltd., London. (Lambert Brothers [Shipping] ). Scottish Ship Management Ltd., Glasgow, managers.
1973: Re-engined by Amsterdamsche Droogdok Maatschappij, Amsterdam, with two 9 cylinder Stork-Werkspoor 9TM410 Diesel engines, 12,000 bhp, 15 knots.
1975: Management transferred to Whitco Marine Services Ltd.
1978: Sold, Jacamar Shipping Co. Cyprus flag, renamed SOLITAIRE.
1978: Sold, Leila Maritime Co. Ltd. Mediterranean Shipping Co SA. Managers, renamed LEILA. Cyprus flag,
1988: Sold, Silver Dolphin S.A., renamed GHADEER, Panama flag.
1993: Sold, Royal Kris Maritime S.A. renamed ROYAL KRIS, Panama flag.
1994: Left Inchon 6th August for ship breakers in China.