MV Cape Rodney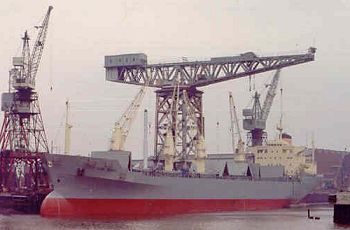 Geared Bulk Carrier
Official Number: 365000
Call Sign: GUWJ
Tonnages: 16,646 gross 9,781 net 26,930 deadweight
Main Dimensions: 574.5 x 84.5 x 32.4 feet
Engine: Harland & Wolff B & W six cylinder 6K7 4 EF oil engine, 11,600 bhp 15 knots.
Cargo Handling: Fitted with four electric hydraulic deck cranes of 18 tons SWL suitable for grab handling.
1976: March,completed by Govan Shipbuilders Ltd., Glasgow (Yard No. 216) for Lyle Shipping Co. Ltd.,Glasgow. Scottish Ship Management Ltd.,Glasgow, managers.
1985: Sold Commodity Handling Pte. Ltd., Singapore flag. Renamed RODNEY.
1986: Converted to a processing bulk carrier. Timur Carriers (Pte) Singapore, managers. Renamed CHL INNOVATOR. (See below photo).
1991: Management to TNT Shipping International, Rotterdam.
1994: Management to Holyman (Europe) B.V.
1999: Management to CHL Shipping B.V.
2000: Management to Kristian Gerhard Jebsen Skipsredri A/S.
2010: 21st December. Management to Gearbulk Ltd.
2019: Arrived Izmir Anchorage 18th April.
2019: 23rd April. Arrived Aliaga for breaking up after more than 43 years of service.