MV Baron Renfrew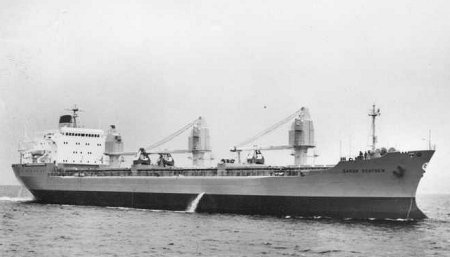 Geared Bulk Carrier
Official Number: 335585
Call Sign: GNUT
Tonnages: 14.544 gross, 8,080 net, 22,200 deadweight.
Main Dimensions: 527.75 x 75.2 x 32.1 feet.
Engines: Two 12 cyl. 2 S.C.S.A. oil engines by English Electric Diesels Ltd., Ruston Division. 12,000 bhp, 15 knots.
Cargo Handling: Fitted with three electric deck cranes of 15 tons SWL suitable for grab handling.
April 1970: Completed by A/S Horten Verft, Horten (Yard No.167) for H. Hogarth & Sons Ltd., Glasgow. Scottish Ship Management Ltd., Glasgow, managers.
May 1971: Port engine replaced.
August 1973: Re-engined by Amsterdamsche Droogdok Maatschappij, Amsterdam with two 9 cyl. 4 S.C.S.A. oil engines by Stork-Werkspoor Diesel, Amsterdam. 12,000 bhp 15 knots.
1978: Sold, Alessio Maritime Co-op, Liberian flag, renamed GOLDEAN VENTURE. Owners later Crown Glen Shipping Corp.
1987: 3rd December. Broken up at Gadani Beach.