MV Cape Ortegal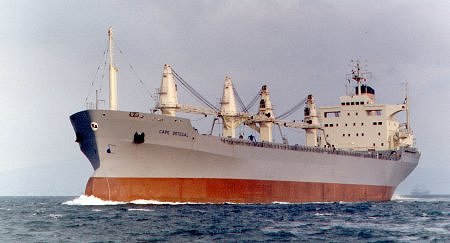 Geared Bulk Carrier
Official Number: 364996
Call Sign: GUWH
Tonnages: 16,646 gross, 9,781 net, 26,930 deadweight.
Main Dimensions: 574.5 x 84.5 x 32.4 feet.
Engine: Harland & Wolff B & W six cylinder 6K7 4 EF oil engine, 11,600 bhp 15 knots.
Cargo Handling: Fitted with four electric hydraulic deck cranes of 18 tons SWL suitable for grab handling.
1976: Completed by Govan Shipbuilders Ltd., Glasgow (Yard No. 215) for Lyle Shipping Co. Ltd.,Glasgow. Scottish Ship Management Ltd., Glasgow, managers.
1982: Sold Stanhope Shipping Ltd, Eastern Bulkers Ltd., Hong Kong, managers, Hong Kong flag, renamed KILMUN.
1986: Sold Andromeda Shipping Lines Corporation Inc., Manila, Perseus Shipping Co., Ltd., Tokyo managers. Phillipines flag. Renamed ESPERANZA V.
1989: Sold Thornleigh Ltd., Naviera Delena S.A. managers, Liberia flag, renamed DELENA I.
1992: Sold Aboitiz Jebsen Bulk Transport Corporation, managers, flag retained, renamed VIZCAYA.
1993: Sold, Axion Shipping, Almana Transport Ltd., managers, Cyprus flag, renamed ANDAXIOS.
1998: Sold Raypak Commercial Corp., Golden Union Shipping Co. S.A. managers, Panama flag, renamed FLAG MARU.
2001: August 2nd. Broken up at Mumbai.