MV Cape Leeuwin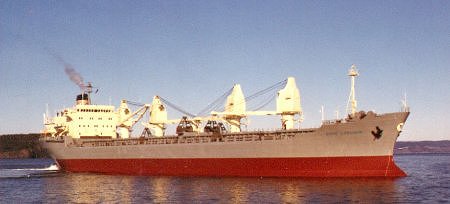 Geared Bulk Carrier
Official Number: 357474
Call Sign: GPOT
Tonnages: 13,437 gross 7,820 net 21,950 deadweight.
Main Dimensions: 522.4 x 75.2 x 32 feet.
Engine: Horten Sulzer oil engine 5 RND 76. 12,000 bhp. 15 knots.
Cargo Handling: Fitted with four electric deck cranes of 15 tons SWL suitable for grab handling.
May 1972: Completed by A/S Horten Verft, Horten (Yard No. 173) for Lyle Shipping Co. Ltd.,Glasgow. Scottish Ship Management Ltd., Glasgow, managers.
Maiden Voyage: Horten to Rotterdam, loaded steel pipes for the Arabian Gulf on Time Charter to Kuwait Shipping Co (SAK). Then to Christmas Island to load phosphate for Eastern Australia.
1982: Sold Tanjong Shipping Co. Sendirian Berhad, Singapore flag. Scottish Ship Management Ltd., Glasgow managers. Renamed TANJONG UTARA.
1983: Sold to Stanhope Shipping Ltd. Eastern Bulkers managers. Hong Kong flag, renamed KILDRUMMY.
1984: Sold Statham Shipping Ltd. Lyle Ship Management managers. Renamed REBEKA OMA Hong Kong flag.
1986: Sold Stukus Shipping Co Ltd. renamed CAPE WIND. Cyprus flag.
1989: Sold Seatouch Shipping Ltd. Renamed UNITAS Cyprus flag.
1990: Sold Chios Fortune Shipping Co.Ltd. Harbor Shipping & Trading S.A. managers, renamed CHIOS FORTUNE. Cyprus flag. Management later to Sunrise Shipping Agency Inc.
1995: Sold, Blue Bay Maritime Co. S.A., Sherimar Management Co. Ltd., managers. Panama flag, renamed BLUE BAY.
1997: Arrived Lisbon 17th October in tow of tug following engine problems on 11th October 250 miles north of St. Michael's. 11th December repairs had not commenced, crew on strike and vessel under arrest!
2004: Deleted from Lloyds Register of shipping.