MV Baron Inverforth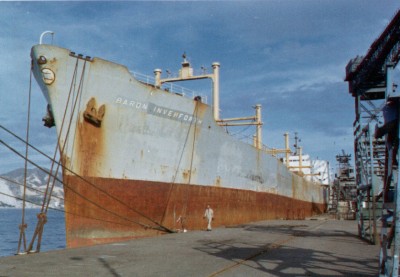 Geared Bulk Carrier
Official Number: 181367
Call Sign: GRXD
Tonnages: 18,319 gross 12,000 net 27,500 deadweight.
Main Dimensions: 617 x 82.3 x 35.7 feet.
Cargo Handling: 16 derricks 7.5 tons SWL.
Engine: Six cylinder Sulzer oil engine by G Clark and N.E.M. Sunderland, 9,600 bhp 14.5 knots.
December 1965: Completed by Austin & Pickersgill Ltd., Sunderland (Yard No 842) for Hogarth Shipping Co. Ltd., Glasgow.
1966: Registered under H. Hogarth & Sons Ltd.
1968: Management to Scottish Ship Management Ltd., Glasgow.
1969: Sold to Paramount Carriers Corporation, Monrovia. Liberian flag, renamed MARGIO.
1985: Sold to Philippine President Lines, Manila. Renamed PRESIDENT ROXAS.
1986: Renamed LUCKY TWENTY FIVE.
1986: December. Broken up at Shanghai.