MV Baron Inchcape
Geared Bulk Carrier
Official Number: 335588
Call Sign: GOUF
Tonnages: 14,651 gross 9,896 net 23,700 deadweight.
Main Dimensions: 534.3 x 75.2 x 34.2 feet.
Cargo Handling: Fitted with four electric hydraulic deck cranes of 16 tons SWL suitable for grab handling.
Engines: Two 12 cylinder Ruston & Hornsby medium speed oil engines, 12,000 bhp 15 knots.
May 1971: Completed by Haugesund Mekaniske Verksted, Haugesund (Yard No. 39) for H. Hogarth & Sons Ltd., Glasgow. Scottish Ship Management Ltd., Glasgow, managers.
March 1974: Re-engined by Amsterdamsche Droogdok Maatschappij, Amsterdam with two Stork Werkspoor Diesel 12 TM 410 Medium Speed Engines. 12,000 bhp 15 knots.
1977: Sold renamed FEDERAL ST CLAIR Canada flag. Lengthened by new owners.
1981: Sold to Transocean Transport Corp Fairmont Shipping (HK) Ltd.renamed TRANSOCEAN PEARL Philippine flag.
1988: Sold renamed PEARL
1989: Sold renamed OCEAN LUCKY St. Vincent & Grenadines flag.
1994: October 29th, sank after grounding off the southern coast of Taiwan on passage Hong Kong to Hualien.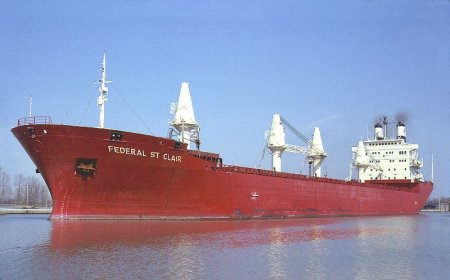 The former Baron Inchcape as the Federal St Clair. Photo sent in by Iain Benzie.