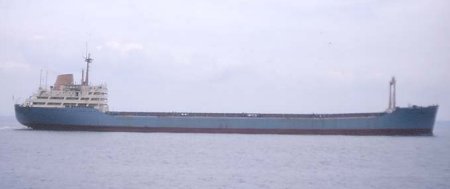 Ore Carrier
Official Number: 304148
Call Sign: GJZH
Tonnages: 19,032 gross 11,567 net 27,500 deadweight
Main Dimensions: 608 x 80 x 32.4 feet
Engine: B & W 6 cylinder oil engine built by J.G. Kincaid & Co. Ltd. 4,500 bhp 12 knots.
November 1962: Completed by Lithgows, Port Glasgow for Lyle Shipping Co Ltd, Glasgow. Time chartered to British Iron & Steel Co. Ltd. (BISCO) for 15 years.
1968: Management to Scottish Ship Management Ltd., Glasgow.
1969: 18th January, stood by MV Firth Fisher 17.5 miles off Bishops Rock. Firth Fisher had developed a list of 15 degrees after her cargo had shifted.
1971: January, on voyage Port Cartier to Immingham with iron ore, hit by an abnormally fierce following sea which caused considerable damage. The vessel diverted to Southampton for emergency repairs.
1978: Sold, Albion Maritime Inc., Monrovia, Liberia (Gulf Shipping Lines Ltd., London) Singapore flag. Gulf East Ship Management Ltd. Singapore, managers, Renamed AL TAWWAB.
1984:January 28th. Left Osaka, Japan for Beilun, Zhejiang, China to be broken up. Arrived February 5th.
Colour photo sent in by Alex Milligan