MV Cape Horn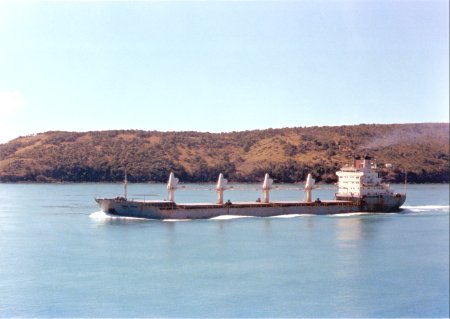 M.V. Cape Horn northbound in the Great Barrier Reef
Geared Bulk Carrier
Official Number: 339732
Call Sign: GOUD
Tonnages: 14,650 gross 9,895 net 23,655 deadweight.
Main Dimensions: 534.3 x 75.2 x 34.2 feet.
Cargo Handling: Fitted with four electric hydraulic deck cranes of 16 tons SWL suitable for grab handling.
Engines: Two 12 cylinder Ruston & Hornsby medium speed oil engines, 12,000 bhp 15 knots.
January 1971: Completed by Haugesund Mekaniske Verksted, Haugesund (Yard No. 38) for Lyle Shipping Co. Ltd. Glasgow. Scottish Ship Management Ltd., Glasgow, managers.
Maiden Voyage: Haugesund to Port Cartier, loaded grain for Japan.
1973:Re-engined by Amsterdamsche Droogdok Maatschappij, Amsterdam with two Stork Werkspoor Diesel 12 TM 410 Medium Speed Engines. 12,000 bhp 15 knots.
1982: Sold to Tanjong Shipping Co. Sendirian Berhad. Scottish Ship Management Ltd., Glasgow managers, Singapore flag, renamed TANJONG TOKONG.
1983: Sold to Stanhope shipping Ltd. Eastern Bulkers, managers. Hong Kong flag, renamed KILINN.
1984: Sold to Twin Harbours Navigation Ltd. Naeem Sarfraz Ltd. managers. Panama flag, renamed CAPE MONZE.
1987: Broken up Gadani Beach Pakistan. Work commenced 2nd July.
Photo: I.W. Warner, Information: J. Drury