MV Cape Grenville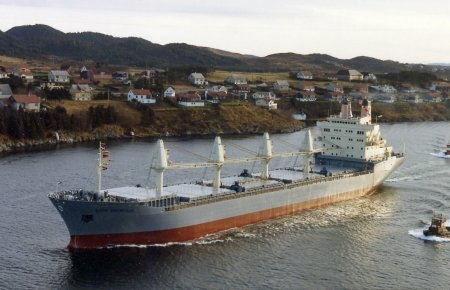 Geared Bulk Carrier
Official Number: 357494
Call Sign: GRHP
Tonnages: 14,651 gross 10,051 net 23,710 deadweight.
Main Dimensions: 534.3 x 75.2 x 34.2 feet.
Cargo Handling: Fitted with four electric hydraulic deck cranes of 16 tons SWL suitable for grab handling.
Engines: Two Stork Werkspoor Diesel 12 TM 410 Medium Speed Engines. 12,000 bhp, 15 knots.
1972: Completed by Haugesund Mekaniske Verksted, Haugesund (Yard No. 45) for Cape York Shipping Co. (Lyle Shipping Co. Ltd., Glasgow.) Scottish Ship Management Ltd., Glasgow, managers.
Maiden Voyage: Haugesund to Galveston, Texas, loaded grain for Japan.
1984: Managers became Lyle Ship Management Ltd., Glasgow. Registry transferred to Hong Kong.
1984: Sold Ocean Shelf Trading Inc., Panama flag, renamed CAPE GWADAR.
1985: Tuesday March 26th. Hit by an Iraqi Exocet missile in the Persian Gulf during the Iran-Iraq war. The subsequent engine room fire was extinguished 12 hours later by salvage tugs. Crew evacuated to Saudi Arabia by helicopter. Ship declared a constructive total loss.