MV Cape Grafton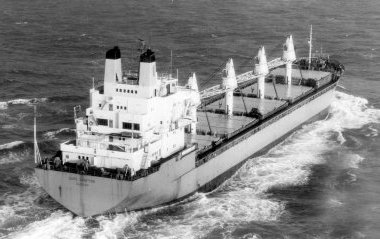 Geared Bulk Carrier
Official Number: 339752
Call Sign: GOZP
Tonnages: 14,651 gross 9,899 net 23,710 deadweight.
Main Dimensions: 534.4 x 75.2 x 34.1 feet.
Cargo Handling: Fitted with four electric hydraulic deck cranes of 16 tons SWL suitable for grab handling.
Engines: Two 12 cylinder Ruston & Hornsby medium speed oil engines, 12,000 bhp 15 knots.
December 1971: Completed by Haugesund Mekaniske Verksted, Haugesund (Yard No. 41) for Lyle Shipping Co. Ltd., Glasgow. Scottish Ship Management Ltd., Glasgow, managers.
Maiden Voyage: Haugesund to Hampton Roads, loaded coal for Japan.
1973: Re-engined by Amsterdamsche Droogdok Maatschappij, Amsterdam with two Stork Werkspoor 12 TM 410 Medium Speed Engines. 12,000 bhp 15 knots.
1980: Sold, Hae Yung Shipping Co. Ltd. South Korean flag, renamed HAE YUNG GOLD.
1985: Hae Yung Shipping Co. Ltd. into liquidation. Vessel taken over by the mortgagees, Korean Development Bank and laid up at Busan, South Korea.
1986: Broken up by Sin Seo Industry Co. Ltd. Busan. Work commenced 24th March.