MV Cape Franklin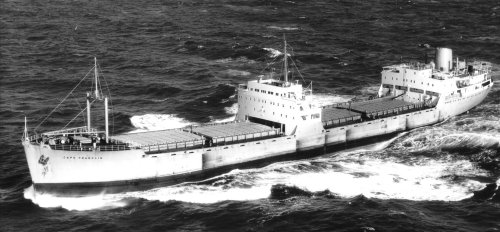 Ore Carrier
Official Number: 301392
Call Sign: GCNH
Tonnages: 11,815 gross, 6,212 net, 15,500 deadweight.
Main Dimensions: 524.6 x 70 x 27.3 feet.
Engine: B & W 5 cylinder oil engine built by J.G. Kincaid & Co. Ltd. 4,500 bhp 12 knots.
April 1959: Completed by Lithgows Port Glasgow (Yard No 1127) for Lyle Shipping Co Ltd, Glasgow. Time chartered to British Iron & Steel Co Ltd (BISCO) for 15 years.
1968: Management to Scottish Ship Management Ltd., Glasgow.
1974: July, sold, Gino Gardella, Genoa, Italian flag. Renamed VITTORIO GARDELLA.
1988: Sold, Sylianos Markakis, Piraeus, Greece renamed VITTO, St. Vincent & Grenadines flag.
1988: July 15th arrived Alang India to be broken up by Alang Shipbreakers Pvt. Ltd.