MV Baron Forbes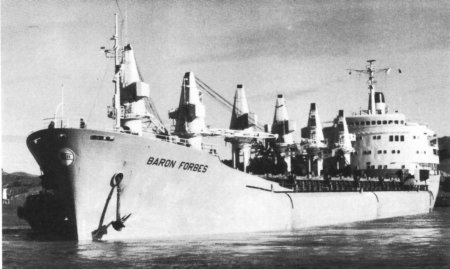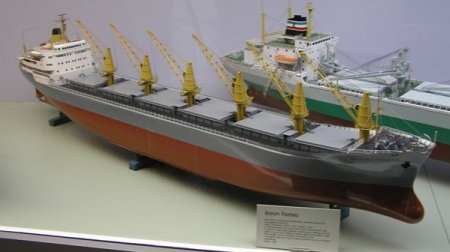 Model at Glasgow Transport Museum. Photo by Iain Benzie.
Geared Bulk Carrier
Official Number: 181369
Call Sign: GXQH
Tonnages: 12,649 gross, 6,925 net, 19,861 deadweight.
Main Dimensions: 530 x 71.3 x 31.8 feet.
Cargo Handling: Fitted with six electric hydraulic deck cranes of 8 tons SWL suitable for grab handling.
Engine: Horten Sulzer 6 RD 76 oil engine. 9,600 bhp 15.5 knots.
October 1967: Completed by Haugesund Mekaniske Verksted, Haugesund (Yard No. 31) for H Hogarth & Sons Ltd., Glasgow.
1968: Management to Scottish Ship Management Ltd., Glasgow.
1973: Sold to Seven Seas Transportation Ltd., Indian flag, renamed SATYA SOHAN.
1984: Sold to Thai Bulk Transport Co. Ltd. Euro-Asia Ship Management Pte. Ltd. managers. Renamed ARUN THAI Thailand flag.
1986: Broken up at Chittagong.