MV Baron Dunmore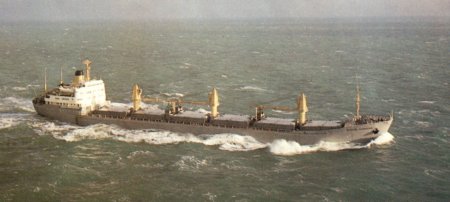 Geared Bulk Carrier
Official Number: 335583
Call Sign: GYUZ
Tonnages: 12,660 gross, 6,914 net, 19,958 deadweight.
Main Dimensions: 530 x 71.25 x 31.8 feet.
Cargo Handling: Fitted with three electric hydraulic deck cranes of 10 tons SWL suitable for grab discharge.
Engine: Horten Sulzer oil engine 6 RD 76. 9,600 bhp 15 knots.
December 1968: Completed by Haugesund Mekaniske Verksted, Haugesund (Yard No. 34) for H. Hogarth & Sons Ltd., Glasgow. Scottish Ship Management Ltd., Glasgow, managers.
November 1977: Sold to Ben Line, Leith. British flag, renamed BEN NEVIS.
1881: Sold to Seatrust Shipping Inc. Costamare Shipping Co. S.A. managers. Greece flag, renamed KREON.
1984: Sold to Thalassopores Naftiki Etena, Heracles Shipping Co. S.A. managers, Greek flag, renamed THALASSOPOROS.
1985: Converted to a bulk cement carrier.
1999: Sold to Poseidon ll Shipping Co., managers, flag and name retained. Laid up at Eleusis.
2002: Sold, Global Navigation Inc, renamed THALA Belize flag. Broken up at Gadani Beach, Pakistan.