MV Cape Clear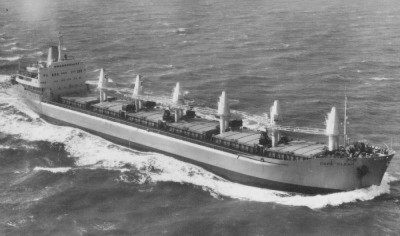 Geared Bulk Carrier
Official Number: 307674
Call Sign: GVQU
Tonnages: 12,624 gross 6,754 net 19,902 deadweight.
Main Dimensions: 530 x 71.3 x 31.9 feet.
Cargo Handling: Fitted with six electric hydraulic deck cranes of 8 tons SWL suitable for grab handling.
Engine: Goterverken oil engine 760/1500 U.G-7U 15 knots.
May 1967: Completed by Haugesund Mekaniske Verksted, Haugesund (Yard No. 30) for Lyle Shipping Co. Ltd., Glasgow.
Maiden Voyage : Haugesund to Tampa Fla. Loaded phosphate for New Zealand.
1968: Management to Scottish Ship Management Ltd., Glasgow.
1973: Sold to Molena Trust Inc. Greek flag, renamed KIKI YEMELOS.
1975: Sold to Kalma Maritime Enterprises, flag and name retained.
1982: Sold to Kalkavan Transport Shipping & Trading Co Inc. Turkish flag, renamed HACI SEFER KALKAVAN.
2000: Repairs required. Class suspended from date of sailing Turkey 1/8/00. 15th December, arrived Alang, India for demolition.