MV Baron Ardrossan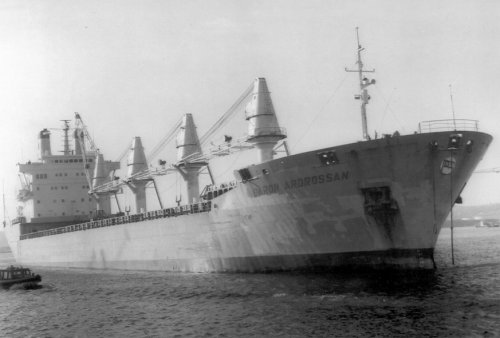 Entering Durban in 1973. Taken by John Trotter (Radio Operator).
Geared Bulk Carrier
Official Number: 335586
Call Sign: GOQX
Tonnages: 14,508 gross 9,632 net 23,680 deadweight.
Main Dimensions: 534.3 x 75.2 x 34.2 feet.
Cargo Handling: Fitted with four electric hydraulic deck cranes of 16 tons SWL suitable for grab handling.
Engines: Two 12 cylinder Ruston & Hornsby medium speed oil engines, 12,000 bhp 15 knots.
October 1970: Completed by Haugesund Mekaniske Verksted, Haugesund (Yard No. 37) for H. Hogarth & Sons Ltd., Glasgow. Scottish Ship Management Ltd., Glasgow, managers.
December 1973: Re-engined by Amsterdamsche Droogdok Maatschappij, Amsterdam with two Stork Werkspoor Diesel 12 TM 410 Medium Speed Engines. 12,000 bhp 15 knots.
1981: Sold Hae Yung Shipping Co. Ltd. South Korean flag, renamed HAEYUNG EASTERN.
1986: August. Broken up at Busan, Korea.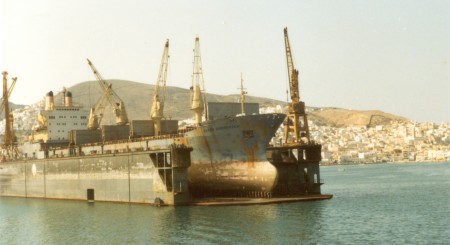 Photo taken by I. Warner at the Neorion Drydock, Syros, Greece, May 1979.